Mama Loup is celebrating 3000 Likes with a huge Made-in-Quebec Giveaway!
She's gathered together some of her favorite Quebec based business to put on an amazing giveaway! Enter to win this fabulous prize package using the Rafflecopter link at the bottom of the post.
Mini Kiwi is the "coup de coeur" for many Québec cloth-diapering Mamas, and we just gave 
rave reviews
 to their pocket diaper. (Still to come, a review of their AIO!) This company run by BFFs and their respective partners is looking to expand beyond La Belle Province, and I hope this giveaway helps them meet their goal. The 4-person team at Mini Kiwi is offering up an all-in-one diaper to one lucky winner!
Öko Creations hold the title of "most reviewed" company on my blog, with three reviews to date! Their 
hemp trifolds
 are the 
only
 inserts I use as AI2s and in my pocket diapers (including my ACs!). I always choose my 
Öko liners
 first in my mommy cloth stash, and post-bath time is 
poncho time 
every night at our house. Speaking of ponchos, the sisters behind Öko are offering up one of their gorgeous Bath Ponchos to a lucky winner!
Omaïki is a staple for many families here in Québec, and I'm noticing more and more chatter about their diapers in Canada-wide Facebook groups. They just redesigned their AIO diaper for a roomier fit: it's seriously the largest-fitting "one-size" diaper I've tried on my big boy. I'll be posting a review on it soon!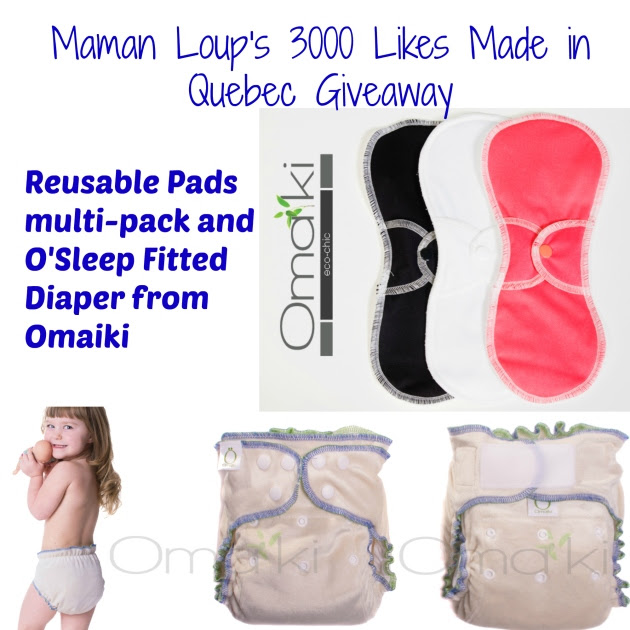 She might not make diapers, but there's no denying that Rainbow & Lollipop's Marie-Pier is a cloth diaper addict! One of her most popular prints uses the "HTF" colours of AppleCheeks with a knowing reference to unicorns. Her original prints for children's rooms are the cutest, and, unlike diapers, can be on display long after potty learning! I am in love with our Wolf Cub-inspired bathroom trio: I will send them with Cub when he moves out. Marie-Pier is offering a $28 gift certificate to her shop to one lucky winner.